Video Conferencing Design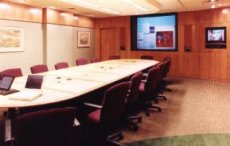 Video-conferencing has seen rapid growth as the digital age makes the data transmission between stations more economical and widely available. Where it was once necessary to rent or install expensive facilities to communicate using broadband video and satellite or fibre links, it can now be done using video codecs capable of operating over more affordable 384kbps data lines, and those systems can connect to even less expensive rollabout units, or even a desktop PC. Increasingly, the conventional "talking head" video conference installation is being extended with interactive elements that make the room more suitable to technical and engineering applications and collaborative design. These may include electronic white boards and host PC's for shared drawings or documents, and video input devices such as document cameras, document scanners, and slide to video converters. Combining video conferencing and computer data interconnection over the Internet can turn a video conference room into an effective workroom, or a situation room.
The Elements of Video Conferencing
A video conference facility is made up of the room, the video pickup and display component, the audio pickup and delivery system, and the codec (code/decode) that is used to convert the signals into a compressed digital form to be transmitted. While the codec and the available transmission bandwidth largely determine what the best transmitted audio and video signal quality can be, it is still important to design the other components for optimum performance. It is important to remember that when there is a requirement for upgradability the easiest item to improve is the codec and the network connection, so the design of the room, and the audio and video components should support foreseeable improvements in transmission bandwidth.
The Room
The video conference room has a tremendous impact on the audio and video systems used in that room. The room acoustics affects both the microphone pickup and the audio playback in the room. Where there is full duplex voice communication, the room acoustics are a critical element in minimizing the echo-cancellation problems, and potential feedback problems. HVAC noise, reverberation and reflections that may not be noticeable to a person seated in the room can be problematic when a microphone is opened in the room. A microphone does not have the sophisticated biological processing that the human brain has for ignoring unwanted sounds in favour of the important sounds.
Ambient light affects the quality of the video display as well. Where there are reflections of light sources on the video display screen or lack of contrast caused by elevated ambient light levels the image quality will be significantly degraded.
You might also like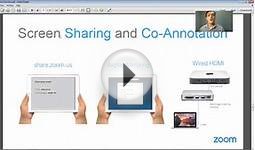 Designing Zoom Rooms for Video Conferencing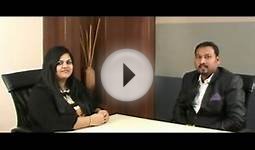 3 Design Tips for effective video conferencing in open ...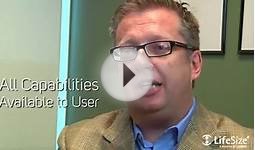 LifeSize Icon Video Conferencing Design Philisophy Video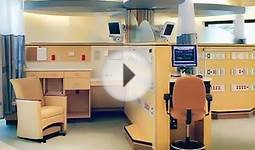 video conferencing design
Video conferencing omnidirectional Echo canceller microphone / speakerphone support USB drive free and support Skype Dial


CE (NMT)




When meetings are free to move around, meeting people when everyone can sit at ease in his place
Support windws xp win7 win8 and Apple Computer systems can be used to plug a computer without having to install drivers,but Dial-up keypad, dialing feature is the...
Mic intelligent eliminate noise,and pickup voice range up to 16.4FT(5Meter),Standard USB audio cable 1.5meter
High-quality speakers,Adjustable speaker volume;Full duplex conversation, clear sound, built-in omnidirectional microphone
Please note: (1) Product applications is ≤ 30 square meters of meeting room, speech and the microphone distance ≤ 2M; (2) Because the product is omnidirectional...

Blackwire C435 - - Modular Design Gives End Users A Choice Of Mono Or Stereo Audio Options And Wearing Styles- Low Profile Design Is Ideal For Video Conferencing, Pc Telephony And Other Multi-Media A


CE (WASX)



Jabra SPEAK410 USB Speakerphone for Skype, Lync and other VoIP calls - Retail Packaging - Black


Wireless (Jabra)




Speakerphone ideal for one-to-one and small-group conference calls
Crystal-clear conversations during Skype of Microsoft Lync internet calls
Easy to transport, Compact design, integrated cable management and travel case
Easy to use with intuitive on-device call controls and external ringer
Headset port for private calls
Q&A
What are some popular video conference softwares?
There are many companies that provide video conference software. One of the most popular one is Go To Meetings and Vizio.