Free conference call website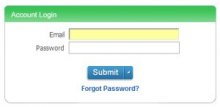 Setting the Stage
SimpleEvent is our conference call service that will allow up to 96 participants that can be in a speaking mode and up to 1000 attendees that can listen to the presentation. It can be as simple as a single presenter speaking to 1000 plus listeners with no question and answer, or a discussion group of 96 participants with the ability to participate in a speaking mode and Attendees can listen in.
SimpleEvent has three types of participants; The Organizer, Panelists and Attendees. The Organizer is responsible for setting up the event and has the ability to manage the speaking modes during the event. A Panelist has the ability to listen and speak during the event. And Attendees are always in a listen only mode.
SimpleEvent will automatically generate a conference call number and access codes for each group of participants. The dial in numbers and access codes are what assures that you are all going to be at the right event. It is critical that the appropriate dial in numbers and the associated access codes are distributed before the Event.
For our free service all participants dial a toll-based number that SimpleEvent provides automatically. The number is toll-based and all the participants are charged their standard long- distance rate for calling this toll-based number, just as if they made a regular long-distance call.
We also offer a Paid Service where you will be provided with an 800 based dial in number and you will be billed for the minutes used during the event.
Using SimpleEvent Voice Conferencing Service: Scheduling your Event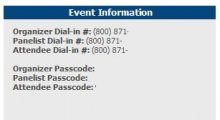 SimpleEvent is a reservationless system. All that is required is for the Organizer to set up a date and time and then invite the participants to attend or listen in. Each type of participant will need the assigned dial in number and access code at the scheduled event time. Then, each participant must dial into the appropriate number and enter their access code followed by the # and they will be in the event.
Access codes are unique to each group, allowing for either speaking or listen-only modes. It is very important that the appropriate dial-in numbers and access codes are provided accurately.
Organizer Phone Numbers and Event Commands
The organizer phone number and access code is used to start a conference call and allows access to conference call control features. When initially calling in the Organizer is entered into a sub-conference call with other Organizers and Panelists.
The organizer phone number and access code should be kept private.
Organizer Key Commands
| | | |
| --- | --- | --- |
| Command | Feature | Details |
| *1 | Start | Starts the conference call. (This allows for attendees to listen in) |
See also:
You might also like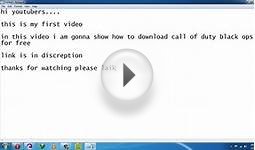 How to download call of duty black ops 2 for free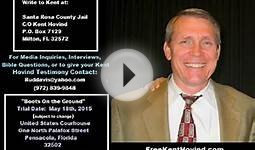 Weekly Conference Call: Kent Hovind Persecution Case (4-4-15)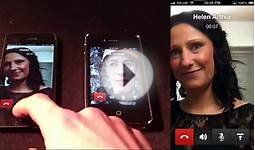 How To - Call people for free on your phone with facebook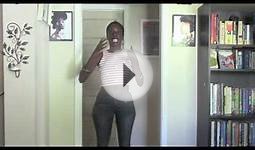 FREE CONFERENCE CALL TONIGHT! SEE DESCRIPTION BOX FOR DETAILS
Tips for success in Group Discussions


Mobile Application (Maneesh)




A discussion group is a group of individuals with similar interest who gather either formally or informally to bring up ideas, solve problems or give comments.
The major approaches are in person, via conference call or website.People respond comments and post forum in established mailing list, news group or ICR.
Jawbone JAMBOX Wireless Bluetooth Speaker - Red Dot (Discontinued by Manufacturer)


Wireless (JAWBONE)




Red Dot Bluetooth wireless speaker/speakerphone
Sync with MyTALK online platform to download apps, software upgrades and latest features
Brings wireless audio to wherever you want
Built-in microphone frees you to share conference calls anywhere
Bluetooth V2.1 compliant
Wireless portable speaker in red connects with mobile phones, computers, tablets, iPods or any other Bluetooth device
Seamlessly stream and share music, movies, games, phone and conference calls anywhere
Two highly powerful acoustic drivers and ultra-small dome produce a wide audio spectrum
Can be updated with apps, software and new features via Jawbone s MyTalk portal
Up to 10 hours of power from internal rechargeable battery

Snom 2793 4 Line Phone with Black and White Display (SNO-710)


CE (Snom)




Country of Origin:China
Website Link:http://.snom.com
Width:7.3
Length:8.1
Color:Anthracite gray

Streaming Media Player Hdmi Wificast 1080p Tv Pc and Projector Support Dlna and Miracast-black


CE (ELELINK)




• Streaming Media Player can fast and wirelessly beaming the display contents from your Miracast supported devices (such as smartphone, Tablet, laptop) to your big...
• Just need a simple operation to the built-in feature of your source device, no wire required, no installation & setup of complex APP software.
• It can especially meet the needs of report presentation when have meeting with clients, company conference, training and other business purposes.
• With easy application of the free JoyLink APP, you can easily share photo, music and video from your smartphone, tablet and computer to the TV, monitor or projector...
• Under the Bridge to wireless mode, you can stream web video and broadcast live TV programs from major websites (such as Youtube) on TV, monitor or projector. Meanwhile...
Q&A
How does one start a free conference call?
To start a free conference call you first need to find a service that lets you make free conference calls. After you find one and sign up they will then give you a phone number and access code. Now the catch with using a free service is that they may not provide toll free conference lines; you and your participants may have to pay applicable long distance charges.