Great Training Videos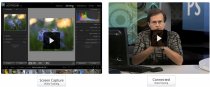 Like most instructional designers, I'm very excited about the possibilities of what will become the future of online education. One day, immersive online worlds and serious games might be the future of online adult education.
Today, however, these technologies are more buzzwords than practical options, mainly used in small demographics and in limited situations. Until the day comes that immersive learning is the norm, think video.
Why video? Your learners are used to watching TV and Internet videos. With the popularity of video sites such as YouTube, which now accounts for 25 percent of all Google searches, the consumption of video training is a reality in most organizations and colleges. These accessible online video forums have made it easier for organizations to distribute online training videos.
On top of that, video is the fastest means currently available to create engaging online learning experiences, especially for the masses. Using video is an easy way to make a connection between the instructor and the learners. In this article, I provide a step-by-step guide for creating great instructional video design, and producing such experiences. This is not a technical guide for shooting and editing video.
Six steps to great instructional video
While video technology is available to anyone, companies must take the time to ensure the high instructional quality of the training videos they produce.
Step 1: Planning the video
Here is an example of a simple video plan I use to get started on a project:
Course learning goals
Course outline
Suggested length of total video
Top three subject matter expert (

SME

) choices
Practice run date
Shoot date
Shoot location
Crew needed? Cameraman, editor, producer, grip
Budget
Step 2: Understanding video-based instruction design basics
Creating great online video instruction can be intimidating, but it really is quite simple. In most cases you are still teaching based on the adult learning model, with a few additional guidelines for video. Start the video by introducing the subject matter expert, the "SME, " and then tell the learner what they are going to learn. Next, show the instruction. Finally, through a summary, tell the learner what they just learned.
One of the biggest mistakes people make with video is the length. Would you sit down and watch a 52-minute video segment? The optimal video segment should be two to seven minutes long.
The second mistake people frequently make with video is not engaging and connecting to the learner. If you are teaching a software program, most instructional designers only show the software screen and not the instructor. This creates disconnect between the instructor and the student. Believe it or not, most of the time when you're teaching software, you are not moving your mouse around. Instead you show how to do something, and then you spend most of the remaining time talking about the theory behind what you just did. So, if you're just showing the screen with voiceover, the video becomes boring. On the other hand, if the instructor looks right at the learner when he is talking, it creates a connected bond similar to being in a classroom with an instructor. (See Figure 1.)
You might also like
Sales Training Video - Recruiting and interviewing GREAT ...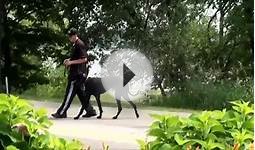 Gunner (Great Dane) Dog Training Boot Camp Video Minnesota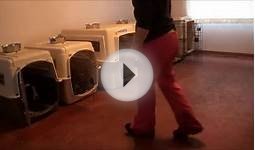 Sebastian (Great Dane) Dog Training Boot Camp Video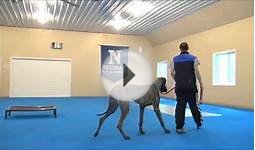 Wellington (Great Dane) Boot Camp Dog Training Video