Online Meeting Tools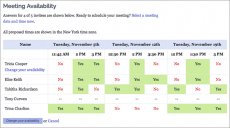 You're in charge of arranging a meeting that includes people from different companies in different time zones. Thanks to the ready availability of online meeting services, you no longer need to worry about travel times or budgets - you simply have to find a time to meet and send out invitations.
That's the good news: meeting online makes it easier than ever to meet with people spread across the globe.
Still, that's easier said than done. When you meet with the people in your company, you simply check their shared calendar to find an open slot and send out the invitation. That won't work this time because you have no idea what the other attendees already have on their schedule.
The challenge: meeting with people outside of your corporate network and local timezone increases the complexity of scheduling.
So it begins - the long exchange of email as you try to find a mutually agreeable meeting time. You need a time that everyone has free with a little bit of padding just in case the conversation goes long that isn't during anyone's lunch, not too early, not too late, not on a holiday (accounting for the different holidays for each country and religion involved in the call). The more people involved, the longer this takes.
This problem has always been part of working with national and international association committees, and she recommended tools to help. Take a look at the services profiled below and see if there's one that will help you schedule your next meeting.
How it works:
Enter the time zones for each meeting participant and a meeting date, then click "Show timetable". You'll see a handy list of possible meeting times for each selected city, color coded to easily distinguish between regular working hours and especially bad times (like the middle of the night). Look for times showing green across the board before suggesting a meeting time.
If you want to schedule a meeting in the next 3 weeks, scroll past the list of country names at the top to see a listing of holidays by day and the countries that observe them. You can click on the country name next to each holiday to learn how it's observed - including whether this is a public holiday during which many businesses close.
For meeting dates farther in the future, you can select a country to see the full list of holidays celebrated each year.
Scheduling Tools
Once you've found some times to propose, these services will shortcut the need for lots of email to select the final time. They all work on the same basic premise: you provide some suggested times for the meeting then send a link by email to all participants. They respond with the best meeting times for them. Based on the responses, you set the meeting time.
Each service has a free version.
You enter a specific set of possible meeting times and the email addresses of the people you're inviting. Each person receives an email with a link back to a survey showing the suggested meeting times and clicks on those that they can attend.
The free service works well and has the least obtrusive ads - just one small text-only ad in the top corner. Optional features such as sending reminders to people who haven't replied are included.
green jasper
green sneakers
songs by al green
how to freeze green beans
green energy stocks
nancy green
green xanax
green bay restaurants
green leaves
green coffee beans
nancy green
green bay obituaries
green sky
dutch green jordan 1
green china
green new deal summary
cabela's green bay
green mountain energy
green sunfish
green check mark
bowling green ky
sage green background
green new deal
kayla green
green day dookie
how to make green bean casserole
green bay news
green boots mount everest
green stone
green card status
australian green tree frog
how to blanch green beans
mint green color
green anime characters
green juice
indoor putting green
green powerpuff girl
green color
green prom dresses
fried green tomatoes recipe
green anaconda
how green was my valley
sage green comforter
green sofa
red orange yellow green blue purple pink brown black white gray
green tree relief
green crystals
dark green aesthetic
green calcite
green jordans
pokemon leaf green
green vibrance
green sunfish
green tea shots
green bean
green mountain coffee
nfl green bay packers
green dress for women
green onions
chad green
green crack strain
matcha green tea
green cocktail dress
green flame blade 5e
green butterfly
You might also like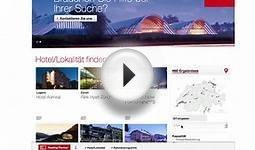 Online Meeting Planner für Business-meetings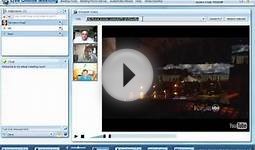 The Network Marketing Magazine Introduces Live Online Meeting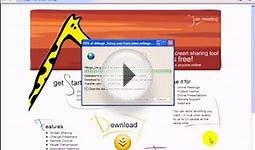 Mikogo Free Online Meetings Organizer Tutorial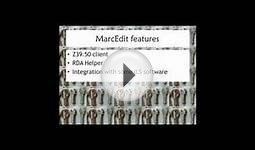 2014 NLA ITART Spring Meeting Online: Technology Tools for ...
The First-Year Teacher's Survival Guide: Ready-to-Use Strategies, Tools and Activities for Meeting the Challenges of Each School Day (J-B Ed: Survival Guides)
eBooks (Jossey-Bass)
Q&A
What is the solution of not meeting commitments?
You have described a rather general type of problem. If you are not meeting your commitments, then broadly speaking, there are two types of solutions. Maybe you should make fewer commitments, or maybe you should try harder to meet the commitments that you make (or both).