Video Teleconferencing Training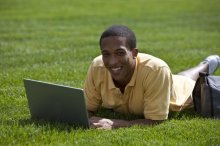 Video teleconferencing provides employees access to training from anywhere.
Comstock Images/Comstock/Getty Images
In a world where small businesses are expanding to include remote employees and offices, video and teleconferencing abilities are becoming more important for employee training. Through the ability to connect face-to-face with a video teleconference, employers save money and time and gain interaction and engagement, which are essential for small-business owners.
Bringing People Together
Teleconferences, live exchanges linked by telecommunications systems, can bring businesspeople together to interact face-to-face, even if they work thousands of miles away from one another. For example, employees in Dubai or Dublin can meet in real time with others in Atlanta or Albuquerque, New Mexico. The ability to teleconference enables an employer to effectively train employees without respect to geographic limitations. Through technology such as Voice Over Internet Protocol, exchanges that include video, audio and document sharing can be used as training options for the small-business owner.
Saving Time and Money
Instead of having to wait for multiple groups to be trained at various training sessions, every employee can attend training at once through video teleconferencing. Training everyone at the same time through teleconferencing is efficient, requires no travel time for the trainer or employees and provides an opportunity for everyone to receive identical training. Also, for training elements that must be conducted immediately for critical reasons, teleconferencing can accomplish the goals of a time-pressed employer or business owner.
Only one trainer is required, which reduces teaching costs. Fees for training facility rental or costs of refreshments required for training sessions are eliminated. In a study published in the 2010 "Handbook of Ambient Intelligence and Smart Environments, " Philips Research Europe found teleconferencing reduces a company's carbon footprint. The costs to drive one hour to a meeting or training session equal 1, 000 hours of Web conferencing.
Related Reading: Factors Impacting Employee Training
Connecting Employees
According to the Telework Research Network, between 20 and 30 million Americans work from home at least one day per week, as of 2012. The number of Americans who work from home at least one day per month has increased by 74 percent since 2005. Because of this, teleconferencing and video options are becoming increasingly important. Being able to train remote employees through communicating over the Internet or phone is a necessity that even small-business owners must consider.
Considerations
Technology has made it easy for small-business owners to take advantage of video and teleconferencing opportunities. Cloud technology allows employers to save documents and files to an online-based server, where multiple employees can access them to work with them during a Web conference. Web-conferencing software is readily available online through Skype or Google Talk. High-definition video recorders can take video and allow easy methods of uploading for use later as training modules. Chat, instant messaging and webcams provide options for business owners to communicate with their employees in an online atmosphere.
You might also like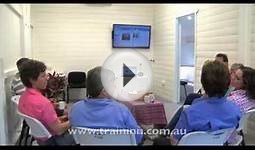 Train Inn Longreach - hire for workshops, videoconferences ...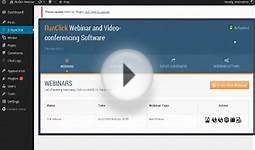 RunClick Video Webinar and Training Software Demo
Q&A
Video Conferencing between offices for training and staff meetings
I have seen a demo of iPop which is very cool. This is NOT freeware though, but trust me it's VERY reasonbly priced. They charge by monthly fee which I think is around $200-250/month. We are thinking about it to save on travel expense and let us do remote support of pcs. No I don't work for them.
1-858-715-0970

The people in various conference rooms can see one another with webcams and can take over the desktops for support if a user wishes to grant that permission. Works with Powerpoints and pretty much every other application you would want users to view.
What is video conferencing?
Video conferencing tools from desktop software enables you with a
range of new ways to connect face to face from Office Boardrooms,
Conference & Training Halls & mobile devices with HD
quality, even at a very low Bandwidth. The market leaders in
software based video conferencing's goal is to make TelePresence
grade video collaboration.