Cisco Meeting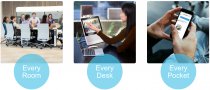 At Cisco, we believe collaboration is not a set of technologies – it's a human activity focused around getting teams to work better together to reach common goals.
Cisco's mission is simple : we want to provide a no-compromise collaboration experience into Every Room, on Every Desk, and into Every Pocket. In this post I will concentrate on the Meeting Room designed by Cisco.
When it comes to Collaboration, the focus is on getting the experience right – it's not just about IT making sure that things are deployed.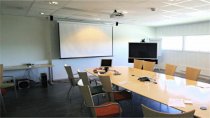 If employees don't adopt your new technologies, where's the return on investment?
Meeting Rooms today
Currently we see a lot of meeting rooms around in business and organizations like this one, or with similar siloed technologies and usage applications. One solution for local meetings, one for audio conference, one for multimedia, one for video and one for whiteboard and content creation.
This is the typical meeting room I personally see when I visit customers. You can find an audioconference endpoint with external microphones. This audioconference device has an audio corporate directory and can be reached via a PSTN phone number.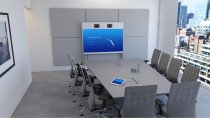 In one corner, there is a "wheel base" videoconference endpoint also with its own external microphones and a remote control. This device can be reached by dialling an H.323 IP address and also has a video corporate directory. For local meetings, you also have ceiling speakers in addition to the beamer which adds another remote control on the table. Also, fifty percent of the time this beamer has a PC connected which adds keyboard, mouse, webcam, etc.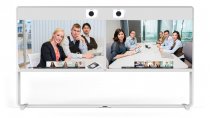 When an end-user enters this room, the first thing which comes to its mind is "oh, my god ! It looks difficult, I'm gonna call IT to setup my meeting". If you think about it, it's not really obvious for most of the business users : I'd like to show my content locally but also remotely for people joining via video, which VGA cable do I use ? which remote ? which video source ? I'm doing a videoconference, but I also need to bring someone on its cell-phone, should I use the audioconference device in parallel ?
Things does not work very well together or not at all, and it is a lot of friction and pain to utilize everything in an efficient manner, and overall this creates a very bad user experience.
The Meeting Room designed by Cisco
We worked at redefining the meeting room experience, making it simpler, more user centric and optimized for user scenarios, but also more intelligent and capable, and here is the result :
Basically, we took every accessories from the previous room and integrate them into a single device : the Cisco MX Series.
The MX series integrates the beamer, the speakers, the microphones, the audio and video conference endpoints, the different cables inside a single device.
See also:
Explore curated collections of movies and shows on Soap2Day.
You might also like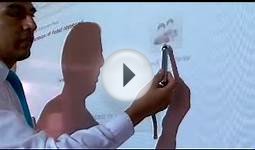 HP Whiteboard - Cisco Webex Meeting Center (4)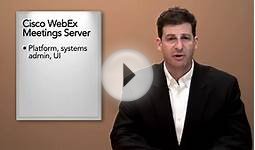 Cisco WebEx Meeting Server: Customer Testimonials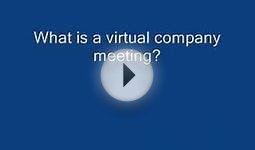 Cisco Virtual Company Meeting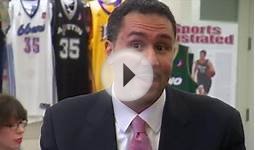 2013 NBA D-League Draft Live via Cisco WebEx Meeting Center
G530 Case, Casemart Top-Grade PU Leather Folio Flip Wallet [Card Slots] Design Case [Slim Fit] [Magnetic Closure] Stand Cover Cute Pattern Shell Case for Samsung Galaxy G530 -Neverland
Wireless (wood with screen protector with belt clip wallet for women with stand white xmen xbox xbox one x-men xo the weeknd case xo x ray xray xhorizon wallet yellow yankees ying yang youtubers yin yang youtube yoga yamaha yellow and grey zebra zelda zebra print zig zag zeox anchor armor anti shock animal apple anime and screen protector aluminum aztec black blue bumper battery belkin bling basketball batman boys charger clear cheap cute camo card holder chevron cat chanel disney drop protection dust proof design diamond dustproof defender dreamcatcher drop proof elephant elago emoji elephant protective esr elephant rubber eiffel tower ears elegant for girls for men for teen girls for guys for boys floral for women flowers funny gold glitter girls girly galaxy green glow in the dark giraffe gel heavy duty harry potter hello kitty hipster henna hybrid holster horse hippie incipio iron man incase infinity inspirational quote ice cream iblason indian indie jordan jelly justin bieber jetech japanese jeweled juicy couture jesus joker kate spade kickstand kate spade new york kids keep calm kawaii kitty koolkase korean lifeproof leather lifeproof waterproof lilly pulitzer louis vuitton luxury liquid lace leopard michael kors men metal mate mint music marilyn monroe marvel mint green nike nba neon nautical nintendo nature lifeproof nuud navy naruto otterbox owl pink protective purple pink victorias secret pineapple prime pack polka dot pattern quote quotes inspiration quotes for girls quotes tumblr quotes disney quotes funny queen quiksilver quicksand rubber red rugged rubberized rhinestone rubber for men real madrid retro rainbow speck spigen shockproof silicone slim shock resistant star wars sparkle shock proof tough tumblr tough armor transparent tribal tech21 teal thin tory burch ulak under 1 under 5 uag unique under 2 up unicorn usa victorias secret vintage vera bradley vans victorias secret pink volleyball vans off the wall van gogh verus wallet waterproof with card holder)
Precisely cut openings for the dock connector, charger, side buttons, speaker, microphone and camera were precisely cut
The durable PU leather and inner rubber keep their softness and shape in the same time. And both of them can absorb the impact from drops efficiently.
Excellent pockets style for the casual meeting attire at a restaurant, holds your business card, credit card and a sweet pocket underneath for receipts or additional...
The case is 100% brand new, Top-Grade PU leather material and workmanship, protect your cell phone against dust and shock
Package includes: 1x leather cover, 1x responsive pen and 1x HD screen guard film. We usually shipping via takes 7-12 days
3M Dust Respirators 8210 Plus, N95, 20-Pack


Home Improvement (3M CHIMD)




RESPIRATOR N95 8210
EA 8BX/CS 3M (20/BX)
N95 approved filtering facepiece particulate respirator - NIOSH/MSHA Approved
Compatible with a variety of protective eyewear and hearing protection
Adjustable noseclip reduces potential for eyewear fogging and helps ensure a better seal and fit
Two-strap design with welded dual point attachment helps provide a secure fit
Suggested applications: Grinding, Sanding, Sweeping, Bagging and other dusty operations
Sangu 100% Hand Painted Wood Framed Giraffe Meeting in Middle Africa Home Decoration Paintings For Living Room Gift on Canvas 5-piece Art Wall Decor


Home (Eve's Temptation)




Size: 12x20Inchx2, 8x24Inchx2, 8x28Inchx1 (30x50CMx2, 20x60CMx2, 20x70CMx1).
Gallery wrapped and stretched with wooden frame on the back. Ready to hang.
Edges are painted. A perfect wall decoration for living room and bed room.
100% hand painted. Actual painting may be slightly different from the product image.
Materials/Milieu: Thick Canvas, high quality oil or Acrylic colors.

Avery Self-Adhesive Laminating Sheets, 9 x 12 Inches, Box of 50 (73601)


Office Product (Avery)




Self-adhesive with special easy-peel backing
Grid helps you quickly and easily size documents
Includes fifty self-adhesive laminating sheets
Self-adhesive with special easy-peel backing
Grid helps you quickly and easily size documents

Spanish Meetings


Mobile Application (Mobilinga GmbH)




Words can be learned English to Spanish and Spanish to English.
Award-winning audio software helps you perfect your pronunciation
Flashcard system: one of the best tools to learn a new language
Content saved on the device and available without going online
Statistics mode to help you keep track of progress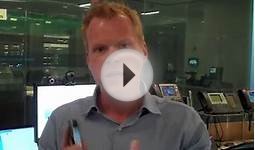 Cisco WebEx meeting handoff from iPhone to PC; Meet ...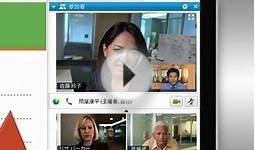 Cisco WebEx Meeting Center デモンストレーション
Q&A
how to use Microsoft CRM plugin with Cisco Meeting Place Express plugin in Outlook client
AFAIK, No, we have been told by Cisco that we should use either.
What is the storyline of Cisco Meets the Gorilla ?
A band of outlaws commits a series of robberies, while a sheriff and his deputy hunt down a gorilla on the loose.